FairCityNews.com | Aug 25, 2009 | Comments 1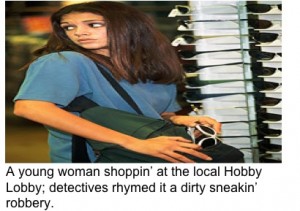 Springfield, MO—Police have issued the following prose in order to catch the thief that Hobby Lobby does oppose. According to police, the Hobby Lobby on Kearney Street was blindsided by a woman, a cheat.
She was spotted emptying her purse in the trunk of her car, then entered the store—step one for the burglar. After browsing the store at her leisure snapping up loot, she reportedly exited the door with a great pussyfoot. Stone cold chillin' she'd bet the farm, then the perp set off the store alarm.
Noises a blazin', managers ragin', the thief was met at the door and started speakin' Cajun. "Bag daer alohrs pas beb," she said, knowing full well this was how she made bread. Her fate was sealed; she scrapped her way out to beat facing the shield. A punch to the arm the manager said, kept him at bay and filled him with "dread".
She fled in an Oldsmobile, maroon, with Oklahoma tags; she sped down Kansas Expressway goods still in her bags. Lt Scott Leven said it's a robbery, not shoplifting he says cause she punched a dweeb.
The woman was white and in her early 20's, with great skill and luck under the law she did squeeze. If you have any tips or information, please contact the Springfield Police Station.
Filed Under: Crime
Comments (1)