FairCityNews.com | Oct 26, 2009 | Comments 5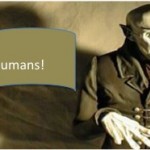 Springfield, MO—The Ozarks very own Vampire Underground will be holding an open house this Halloween week welcoming community members, vampire queens and other "humans" who might need an "awakening". The meeting will be held at Hell's Church in Springfield's subterranean Jordan Creek Tunnel that runs under downtown.
Vampire Underground members David, Paul, Marko, and Dwayne have personally contributed décor to Hell's Church that includes refuse — liquor bottles, used deodorant sticks, a cooler, a pair of pants, a table and several junky office chairs, next to a pitched nylon tent.
Guest are encouraged to bring a covered dish to share during the meeting, however, items containing garlic, holy water or stale blood are discouraged. The Vampire Underground's leader, Max, suggests interested parties RSVP in advance to reserve their spot at the gathering. Max said, "Sleep all day. Party all night. Never grow old. Never die. It's fun to be a vampire."
All interested parties should meet at the Springfield Library's Midtown Carnegie Branch after the moon fills and the crow cries twice; then group leaders will guide groups to the underground meeting space.
Those seeking an "awakening" will be directed to the Springfield cemetery, where "humans" will be prompted to drink the blood of a vampire. Select vampires will also be made available to drink "human" blood to complete the "awakening". Parties participating are encouraged to make a donation to the group, or at least provide a nominal tip for services provided.
Interviews with the Vampire Underground are available. Blade, Buffy, Edgar and Allen Frog, a.k.a. the Frog Brothers, are not invited.
Filed Under: Living
Comments (5)