FairCityNews.com | Dec 23, 2011 | Comments 0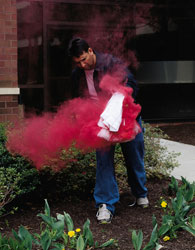 Springfield, MO – According to SPD reports, Newbry Kimmons was the victim of a crime this holiday season, his decorative manger scene was stolen from his front yard. Fortunately, he had the foresight to pack his baby Jesus model with an exploding dye pack, set to discharge if it left the perimeter of his yard.
Police arrived to the scene to find a red ink pattern on the street in front of Kimmons house, mixed with broken white plastic pieces. "Baby Jesus died for me," said Kimmons, "and he sprayed his red guts all over the thief who stole my manger scene!"
Kimmons claims that the robber has been stained with the sin and won't be able to wash it off for several weeks. Police are currently searching for the responsible people and are asking for help from the public. "If you see anyone who has red baby Jesus parts stuck on their clothing, person or vehicle, please contact us," said a SPD press release.
"Who steals manger scenes? I mean really – it's the holidays!" pondered Kimmons. "We're actually wondering who equips their manger scene with explosive dye packs," questioned the officer assigned to the case.
As of print time, the SPD had reported seeing a two men crying uncontrollably inside a nearby church. The men were said to have been praying, "forgive us baby Jesus, wash this sin from our bodies, clothes and vehicle."
Filed Under: Crime
Comments (0)