FairCityNews.com | May 25, 2010 | Comments 1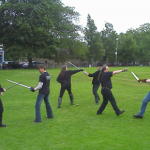 Springfield, MO—The Greene County chapter of Druids for Arthurian Accuracy and Pretend Sword Fighting have forced a local production/reworking of the Sword in the Stone tale to retitle and rewrite the play.
OTC, in conjunction with The Gillioz Theatre, was scheduled to present Misty Unger's "Arthur's Bedsores, Merlin's Piles" Elder Neglect in Dark Age Nursing Homes, April 30–May 2, when Supreme Wizard, Kyle Mintz, got wind of the production.
"My first inclination was to turn her into a hamster for disrespecting our religion." Mintz, seated on a beanbag in his Madison Towers apartment, stated. "But we prefer to not to use our powers for revenge."
After a protest led by Mintz outside an OTC rehearsal hall last week, Unger relented. "All the imprecations and chanting gave me the creeps. I thought they might sacrifice a kitten or a Chihuahua. It was tense. A couple cast members starting crying. I just wanted to bring attention to the issue of elder neglect in an entertaining way, not hurt anyone's feelings."
Mintz, however, was adamant, "We will not have our faith ridiculed or tampered with. Arthur and Merlin are saints in our tradition. The former pulled swords from stones and sired illegitimate children, while the latter cast spells and spouted cryptic wisdom, as portrayed in the film Excalibur, a truly accurate account of our beliefs. Plus, the rumor of Merlin's hemorrhoids was never substantiated."
The play was to tell the story of two retired legends recounting their former exploits from a shared room in a nursing home, all the while suffering from neglect. "I got the idea while working on my Master's in Gerontology." said Unger. "I've always enjoyed fantasy and saw this as a good way to revive the old story while bringing hope and change to the aged."
Unger agreed to alter the title to "Arthur's Stone, Merlin's Fire" and says she will complete the rewrite as soon as she can come up with a few positives Druidism has brought society.
"I still want the play to be a force for niceness," stated Unger,  "but I'm having a heck of a time putting human sacrifice into a positive light."
Filed Under: Entertainment
Comments (1)